Last week saw not one, but two major events for an organisation working with people in our community who have experienced challenges brought on either through mental illness, brain injury or learning difficulty. If you commute into Northampton along the Bedford Road from the Barnes Meadow roundabout you'll have passed it countless times. Maybe you went to the second of those major events – its Craft Fair last weekend.  I write of Workbridge.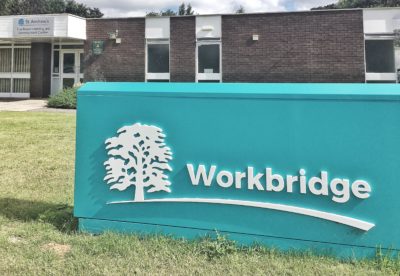 Famed for its Garden Centre, Workbridge is a staunchly individual – if not independent part of St Andrews Healthcare. Like a variety of county based charities aiming to support similar sectors of our community, it uses vocational working to introduce – or re-introduce its users with the world of work. There's a lot more going on there than in just the Garden Centre too.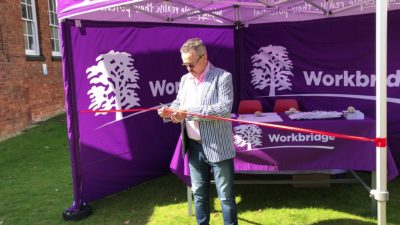 On Thursday last week I was delighted to cut the ribbon at an Open Day at Workbridge. Turning in off Bedford Road and driving past Daily Bread, I parked up behind the red brick building which houses many of the day to day activities of the team, from commercial packaging to retail canvas print production. Stretching in front of me was a vista of rolling Northamptonshire countryside – inside what I'd always understood to be town itself. A large, deep pond adjacent to the building is being renovated so that visitors can take some time to take in the view. That, or they can partake of the cakes and refreshments available from what is a large, award winning café serving from a comprehensive menu.
Before the opening I was introduced to one of the service users at Workbridge over a cup of tea. He was actually sitting down, taking a break from his work in the kitchen of the café and generously spent most of it telling me his story. Now in his mid-forties, that story involved drink, drugs, two years in hospital following what I learned was a huge brain injury from which he recovered, and many more years in rehabilitation. Work has proved to be a real salvation for him and it was with obvious pride that he told me of what is now a seven day working week for him, albeit on a part time basis. I asked him what his ambitions are for the future – he told me that he simply wants to be accepted into the wider world of work and to be given a full time contract somewhere. That's some turnaround in a person who freely admits that he went down a very dark route earlier in his life and who is now grateful to still be around, ready to contribute to the wider community.
It was a lightbulb moment for me. Shouldn't there be more opportunities created where business and vocational organisations can collaborate together for the greater good? Some do exist – Goodwill Solutions CIC up on Moulton Park runs on similar lines but with people who have experienced homelessness. Avon has a longstanding relationship with the Teamwork Trust in Kettering, giving piecework contracts to the organisation which its users then fulfil in return for training, an income and the sense of empowerment which perhaps the majority of us take for granted.  It's time that more co-operative working was encouraged, supported perhaps by tax breaks from the government for those organisations that reach out to the third sector in such a way.
Just because someone has had a chequered past it doesn't mean that they have to have a chequered future. Places like Workbridge give people wings and then the encouragement to fly.
Long may it continue.