A short while ago something happened to me that hadn't happened since I was at school. I was both proud and humbled to be nominated to receive a Borough Council "Heart of the Community" award at The Guildhall.
Publicly I was told that my award had come about not only because of my work in broadcasting, but because of things that I have done in the community elsewhere. I've made no secret of the fact that I have a role in the Northamptonshire Community Foundation – similarly I've been proud to be governor of the High School, growing up as I did opposite its front gates in the late 60s when my family lived in the flat above my dad's office on the corner of Hazelwood Road and Derngate. The school has long since moved to Hardingstone and the office is now an empty building, but my early memories remain, and with them a sense of pride in the town in which I was born.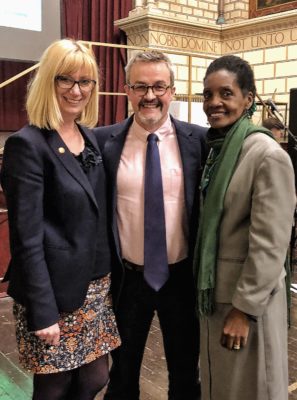 I was last up onto the Guildhall stage to be presented with my award by our current mayor Councillor Gareth Eales. His tenure with the chain comes to an end shortly with the age old tradition of "Mayor-making", at which point Councillor Tony Ansell will step up from being the Deputy Mayor. And so the cycle will begin again. Structures and traditions like mayors and awards made from within the community are important – not because of any kind of egocentric endorsement but instead because the mere act of saying "thankyou" publicly is a powerful statement of appreciation. So much good goes on unnoticed in our communities that you'd be forgiven for thinking that very little that is good goes on at all. That, is not the case.
Through the evening eleven winners went up on stage in turn to hear from the people who had nominated them as to why they had been put forward to receive their awards. It is a very strange thing to stand on a stage and be exposed to the kind of collective thanks that was being offered. For some it was clearly a less than comfortable experience, having the spotlight turned on them. And what stories. I certainly found it hard to accept that I'd done anything that qualified me as being award-winning compared to the real achievements of my fellow recipients. And yet, somebody thought I had. And maybe that's the point.
Are award schemes like this really about the people who do the receiving? Should they be? Ask any of the eleven winners on the night and I'd be willing to bet that unanimously their answer would be "no" to both questions. Instead I suggest that the awards should be – and are – really about celebrating the achievements of individuals trying to make for a better life for the wider community and the people who live within it. We live in times where as never before we are either actively tasked with taking care of ourselves – or being left to fill a void. Government, be it central or local and of whatever political persuasion cannot provide what perhaps it did a generation or two ago. Welfare is now something delivered by the street – less so the state. Kindness comes from people – less so from politics. Saying thank you is a simple but powerful thing – it provides education as well as encouragement too.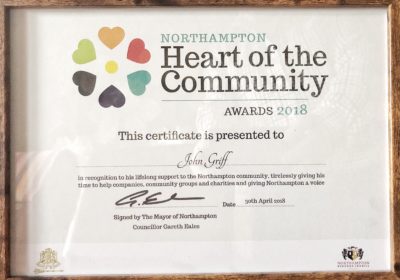 I was delighted to receive my award – my sincere thanks to those who nominated me. It's really NOT about me – it's about US.
Congratulations to my fellow winners – will you be one next time?